Office 365 Usage Analytics
Microsoft launched a preview of Power BI content pack for Office 365 in May 2017. The content pack is due for general availability in early 2018. When this happens, it will support usage data for Teams (Figure 2) in a new focus on how social collaboration occurs within a tenant. At the same time, Microsoft is renaming the content pack to "Office 365 Usage Analytics" to better reflect what it does. The content pack is available to all Office 365 business tenants.
2019 servers and office 2019 landing next year:
Today at Ignite, Microsoft announced the next on-premises version of its productivity suite called Office 2019. This is a perpetual release of Office and for those who are not using Office 365, this will come as a welcomed announcement.
This version of Office will be released in the second half of 2018 and it includes Office apps (Word, Excel, PowerPoint, and Outlook) and servers (including Exchange, SharePoint, and Skype for Business). If you are wanting to test these new updates, you will have to wait until the middle of 2018 for the preview to begin.
Microsoft isn't saying exactly what is new but is instead using broad terms like adding new IT capabilities for customers who are not already using cloud services along with inking updates and enhancements to Excel. For anyone using Office 365, none of these features will be new to you as Microsoft frequently updates that platform with new tools.
The bigger announcement here is that with this release, provided Microsoft sticks to its traditional support cycle, means that there will be an on-premises version of Office until 2029. But, I wouldn't be surprised if this is the last version of this software for on-premises users as Microsoft is heavily pushing all users towards the cloud.
Several years ago, a new version of Office would be a huge release for Microsoft but with cloud services, on-premises users will be catching up to what Office 365 customers are using today. That being said, I know that not everyone wants to use Office 365 because of the licensing requirements and for those users, this will be a modest update.
Health Notifications
Microsoft posts information about service health issues in the Office 365 Admin Center. However, they know that it is all too easy for an administrator to miss out an important notification (the Office 365 Admin mobile app is a good way to keep an eye on incidents when you're on the go).
To improve matters, you will be able to sign up to receive email notifications when service health degrades. You can opt-in for the preview by sending email to shdpreviewsignup@service.microsoft.com.
New Usage Reports
Microsoft is naturally keen that tenants understand how much use people make of different Office 365 applications and includes usage reports for Exchange, SharePoint, OneDrive for Business, and Yammer in the Reports section of the Office 365 Admin Center. Microsoft Teams is a relatively new kid on the block, but when Microsoft announced external access for Teams, they said that 125,000 Office 365 tenants now use the technology. A new usage report for Teams is coming, which will tell you the activity in channel conversations, private chats, meetings, and calls. You can expect to see the Teams reports in about two weeks.
Available now is the ability to assign a new reports reader role so that people can access Office 365 reports without having administrator permissions (Figure 1). This is a welcome step forward. Users with the report reader role can access Office 365 reports (all of them – no filtering is available) and the data used for the Office 365 Power BI content pack (see below).
Microsoft has deprecated the old reporting API used by ISVs for programmatic access to report data for tenants. In its place, we now have the Microsoft Graph-based API for Office 365 reports, which has been in preview since March. Today, data is returned in CSV format and a second update due later this year will output JSON data. Holders of the new reports reader role can access information returned by the API, which means that ISVs can pick up the role and use it in their products.
SharePoint Filters Pane
The SharePoint Filters Pane is becoming your new Metadata Navigation!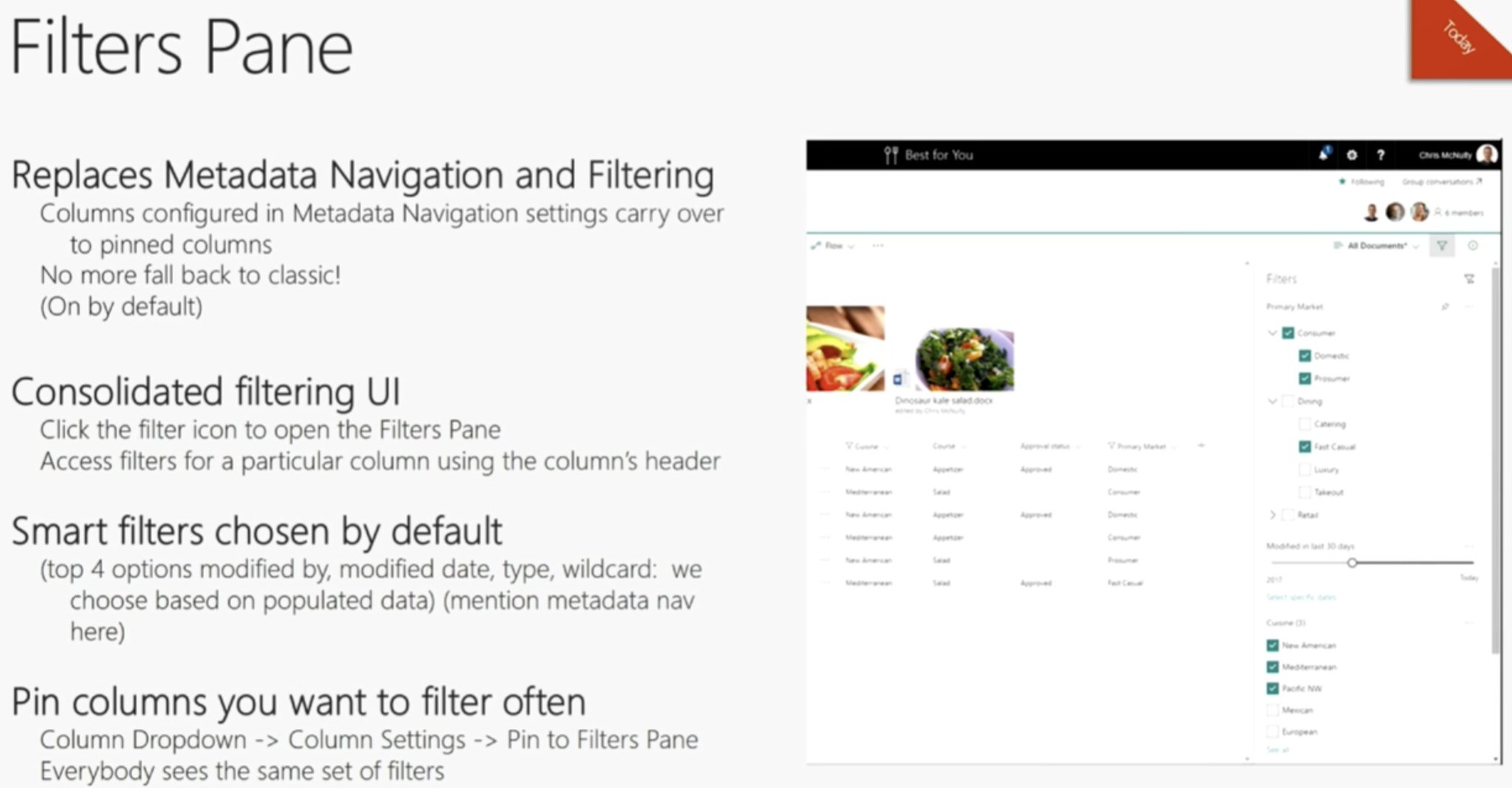 Predictive Indexing
New Predictive Indexing to remove those limits in SharePoint libraries ….